With the Focus Dual we have ultimate flexibility to tailor results for every skin concern.
Focus Dual offers a unique combination of the latest clinically proven technologies for face and body treatments. Radiofrequency Microneedling and High Intensity Focused Ultrasound (HIFU) come together to give maximum results to reduce the signs of ageing. With these gold standard technologies we can treat the skin at EVERY layer to lift, firm, and tighten.
With Focus Dual we can treat:
Ageing skin (Wrinkles and fine lines, including smoker lines and pigmentation)
Acne and surgical scars
Loose, sagging and crepey skin (this includes lax skin around the eyebrow)
Stretch marks
Uneven skin tone and texture
Milia (bumps on the skin)
Large pores
Loss of facial volume
Dull and lacklustre skin
Fat reduction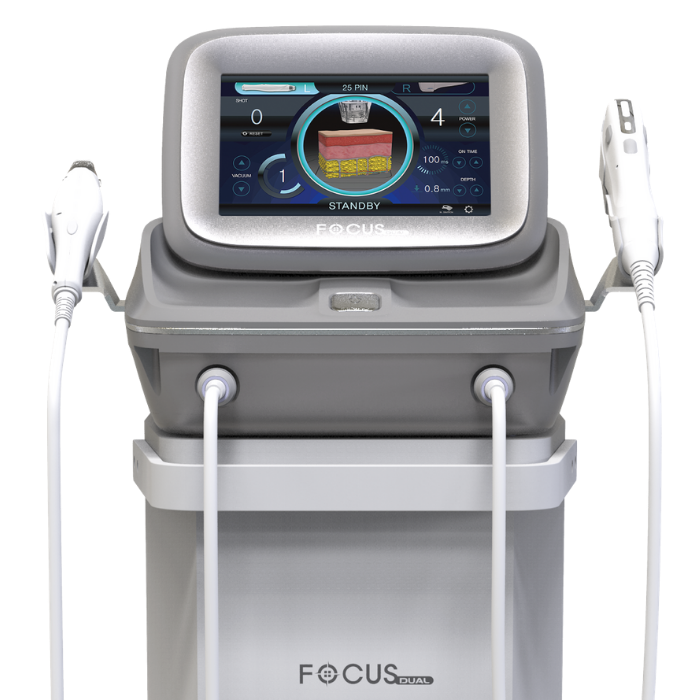 What areas of the face can Focus Dual treat?
Submental region (double chin)
Neck
Forehead (worry lines)
Cheek/Nasolabial folds
Periorbital (eye area including brow)
Mandibular (chin)
What happens during a Focus Dual treatment?
Prior to treatment you will be invited in for a complimentary consultation, with Natalie to discuss the areas you would like to treat, and the reasons for doing so. During this time, we will explain the treatment/ treatment plan in detail ensuring you fully understand the procedure.
If you wish to go ahead with the treatment, we will double cleanse the treatment area
The handpiece will then be placed on the skin in the target area directly on the skin. If you select to undergo HIFU treatment, the area will be marked in order to define the areas for treatment.
Once the treatment is complete, post-treatment serum Light Soothe and Light Protect SPF 50 is applied to help soothe the skin and aid its recovery.
Full results can be seen 12 weeks after the final treatment