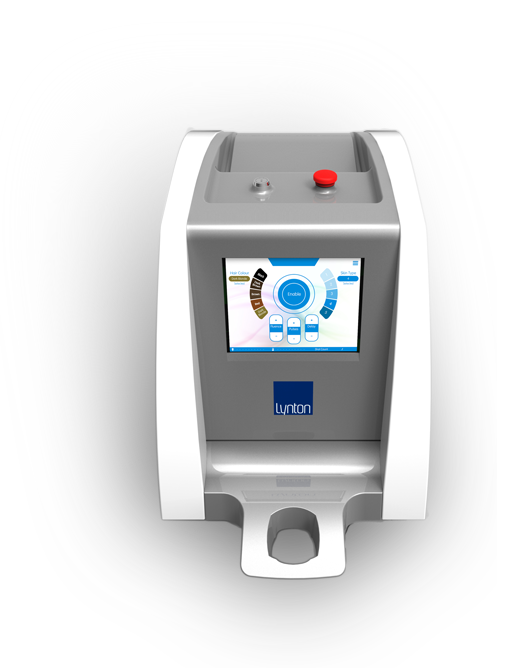 Here at The Hummingbird Clinic, I invest heavily in the equipment I use to treat my clients, ensuring only the safest and most clinically effective treatments, each and every time. This ethos helped when deciding on our laser/IPL provider, Lynton – a specialist aesthetic technologies manufacturer made up of the largest team of UK-based doctors, scientists & aestheticians.
With over 28 years' experience in pioneering medical-grade devices for a broad range of cosmetic concerns, Lynton are experts in designing aesthetic technology that delivers extremely good results. Alongside their premium equipment, Lynton also provide all their customers (us) with comprehensive theory and practical based training – this ensures all practitioners have the in-depth clinical knowledge needed to treat clients safely whilst still achieving outstanding results!
Another reason I use Lynton as our preferred laser/IPL supplier is because of the multiple awards they have won for the quality, safety and clinical results achievable with their equipment – this provides me with the reassurance that I am only using the best devices possible for my clients. Lynton recently won the industry's most sought-after award for the second year in a row: the 'Aesthetic Equipment of the Year' with the Aesthetic Awards, an achievement we found to be very impressive!
All my laser/IPL clinicians have received training directly from Lynton Specialists, which is developed in partnership with the The University of Manchester. Lynton originate from this world-leading institute of higher education and continue to work in close collaboration with the Department of Physics on the development of specialist laser training courses. This means you can be assured that the treatment you have with me here at The Hummingbird Clinic is being delivered by Clinicians who have received the UK's best hands-on and theory based training available.
Lynton have an outstanding reputation for supplying medical-grade laser & IPL technologies to an extensive list of high profile clients, including the NHS and numerous private health care facilities around the UK. Lynton devices are considered by many doctors, dermatologist and aestheticians as the most effective, safe and reliable option when treating a wide range of different aesthetic treatments.
I worked in the beauty industry as a therapist for 23 years before deciding to broaden my horizons and retrain as a laser therapist.
I have always had a keen interest in laser technology, and have always enjoyed keeping up with the latest industry trends and innovations. So, in 2016 I completed an NVQ level 4 (equivalent of 1st year foundation degree) in laser hair removal and skin rejuvenation.
It is worth noting that since 2018 there is new legislation coming that requires all those carrying out laser treatments to hold an NVQ4 or above to protect the safety of the general public.
I am passionate about helping women to look and feel their best which is why I  spent several months researching the many types of laser and IPL machines available. At The Hummingbird Clinic, I am delighted to be using a medical grade laser supplied by Lynton who are a well respected industry leader and also supply surgical grade lasers to the NHS.
I am dedicated to providing excellent customer care at The Humingbird Clinic, and in 2011 she completed an NVQ level 3 in customer service.
I aim to provide an outstanding service and is committed to giving each client a safe, efficient and enjoyable treatment that suits their requirements as closely as possible. I look forward to welcoming you to The Hummingbird Clinic.